THE SWORD AND THE CLAW (BEST WORST NIGHT)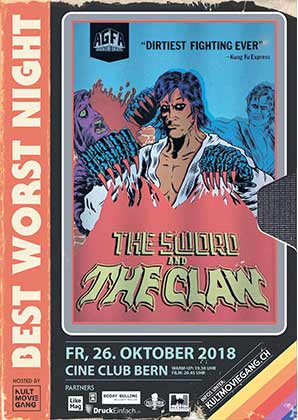 | | |
| --- | --- |
| Original Titel | Kiliç Aslan |
| Dauer | 109 |
| Zutritt | 12 J |
| Cast | Cüneyt Arkin, Bahar Erdeniz, Charles Garret |
| Regie | Natuk Baytan |
| Genre | Action |
| Produktion | 1975 Turquie |
| Verleih | AGFA, Kultmoviegang |
Waisenknabe wird von Löwen grossgezogen, schärft sich seine Krallen und rächt seinen Vater. Springt dabei aber hauptsächlich von Trampolin zu Trampolin.
Wer das Genre "Turksploitation" kennt weiss, hier wird schamlos geklaut. "Turkish Star Trek (Turist Omer Uzay Yolunda)", "Turkish Exorcist (Seytan)" oder natürlich das Piece-de-Resistance schlechthin "Turkish Star Wars (Dünyayi Kurtaran Adam)" sind nur ein paar Paradebeispiele. "The Sword and the Claw (Kilic Aslan)" bedient sich primär bei Tarzan und "Conan the Barbarian".Auch wenn sich der Film mit der Zeit in immer gleiche dramaturgische Muster verstrickt, entfaltet er durch seine Erzählweise eine hypnotisierend, bizarre Wirkung und bietet nebst unglaublich miesen, aber sehr liebevoll gebastelten Kostümen, die Basis für das wohl effektivste Trinkspiel ever. Kippe einen Shot, wenn sich Lionman auf Trampolins austobt und du hüpfst mit Sicherheit nach 30 Minuten in Richtung Toilettenschüssel.
Die KULTMOVIEGANG präsentiert den türkischen Trash einmalig im Rahmen ihrer "Best Worst Night" auf Grossleinwand. Selbstverständlich mit dem ebenso trashigen Rahmenprogramm.