SPACEBALLS (BEST KULT NIGHT)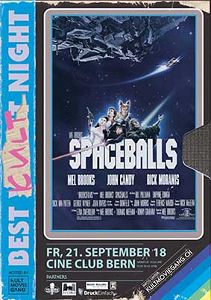 | | |
| --- | --- |
| Original Titel | Spaceballs |
| Dauer | 98 |
| Zutritt | 12 J |
| Cast | Bill Pullman, Mel Brooks, John Candy, Rick Moranis |
| Regie | Mel Brooks |
| Genre | Kult |
| Produktion | 1987 Etats-Unis |
| Verleih | Kultmoviegang |
Blödsinn in seiner erhabensten Form. Hier wird Dummheit mit Hingabe zelebriert, da stört auch der eingerostete Look und die Requisiten aus der Mottenkiste nicht. Besser als alle drei Star-Wars-Prequels zusammen, macht "Spaceballs" auch 2018 Spass.
Wie viele Filme aus den 80ern, erzeugt schon nur der Name "Spaceballs" einen Begeisterungsschub bei Film-Nerds, welche zwischen VHS-Kassetten aufwuchsen und sich im Hier und Jetzt gerne in der Vergangenheit suhlen. "Durchkämmt die Wüste!". Tja, diesen Spruch werdet ihr im September so nicht im Kino hören, denn wir bieten euch die einmalige Gelegenheit, "Spaceballs" im Original-Ton auf Grossleinwand reinzuziehen. Und das ist im Fall besser so, denn durch die nur teilweise gelungene deutsche Synchronisation, geht vom Wortwitz des Originals einiges verloren. "May the Schwartz Be With You!" Jetzt Tickets sichern.

Die KULTMOVIEGANG präsentiert den legendären 'Spaceballs' im Rahmen einer 'Best Kult Night' auf Grossleinwand. Selbstverständlich mit dem ebenso legendären Rahmenprogramm.