SHAKA - BORN IN THE MOUNTAINS, RAISED BY THE WAVES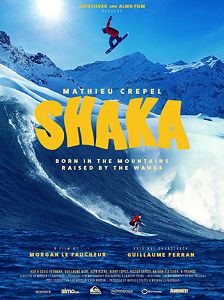 | | |
| --- | --- |
| Original Titel | Shaka |
| Dauer | 80 |
| Zutritt | 16 J |
| Cast | Kelly Slater, Eddie and Koa Rothman, Gerry Lopez, Shane Dorian, Kepa Acero, Nathan Fletcher |
| Regie | Morgan Le Faucheur |
| Genre | Documentary, Sport |
| Produktion | 2019 Frankreich |
| Verleih | Nouvague |
Join us for a fantastic ride down steep mountains and the world's biggest waves!
Der Film begleitet den mehrmaligen Snowboard-Weltmeister Mathieu Crepel bei seinem Ausflug in die Surfwelt rund um den Globus.
SHAKA erzählt die Geschichte einer völlig verrückten Idee: Der französische Snowboard-Weltmeister Mathieu Crepel träumt davon, die größte Welle der Welt zu surfen - Peahi, auch bekannt als "Jaws" auf Maui, Hawaii. Um dieses Ziel zu erreichen zieht er an Oahu's berühmt-berüchtigte North Shore, wo er von den Locals nicht immer freundlich empfangen wird. Doch Mathieu trainiert wie ein Besessener, beginnt mit Apnoe-Tauchen, schwimmt mit Haien und wagt sich in die krassen Wellen von Pipeline und Backdoor, um sich auf die ultimative Challenge vorzubereiten. Allmählich gewinnt er den Respekt der Pipe-Crew um Koa Rothman, Nathan Fletcher und John John Florence, die ihn auf seiner Mission nach Maui begleiten. Nun muss er nur noch seine eigene Angst überwinden... SHAKA zeigt unglaubliches Surfen und Snowboarden auf höchstem Produktions-Level, eingebettet in eine mitreißende Story.