WHAT'S LOVE GOT TO DO WITH IT?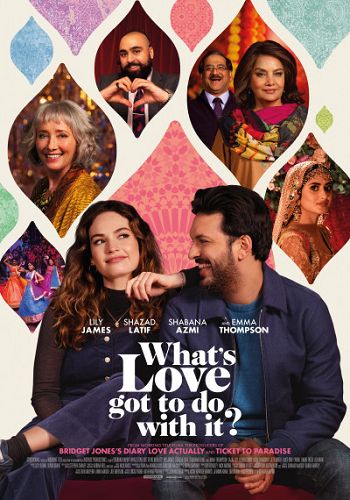 | | |
| --- | --- |
| Original Titel | WHAT'S LOVE GOT TO DO WITH IT? |
| Dauer | 108 |
| Zutritt | 10 (12) |
| Cast | Emma Thompson, Lily James, Oliver Chris, Shazad Latif, Asim Chaudhry, Shabana Azmi, Nosheen Phoenix, Sajal Ali, Nikkita Chadha, Ben Ashenden |
| Regie | Shekhar Kapur |
| Genre | Romance/Comedy |
| Produktion | 2022 Grande-Bretagne |
| Verleih | ELITE FILM AG |
In der britischen Romantikkomödie wird von einer Liebe erzählt, die kulturelle Grenzen überwindet und auch Ehe-Fragen nicht Halt macht.
Wie findet man eine Liebe, die hält? Die Dokumentarfilmerin Zoe (Lily James) hat auch mit allerlei Apps bisher nicht ihren Mr. Right gefunden. Immerhin hat sie aus ihren schlechten Dates eine Menge lustige Anekdoten mitgebracht, was allerdings ihre ungeduldige Mutter Cath (Emma Thompson) auch nicht tröstet. Für Zoes Jugendfreund und Nachbarn Kazim (Shazad Latif) hingegen ist die Sache klar. Er folgt dem Beispiel seiner Eltern und wählt eine arrangierte Hochzeit mit einer intelligenten und bildschönen Braut aus Pakistan. Als Zoe ihn mit der Kamera von London nach Lahore begleitet, fragt sie sich, ob dieser ganz andere Weg zur Liebe auch ihrer Suche eine neue Richtung weisen kann.